About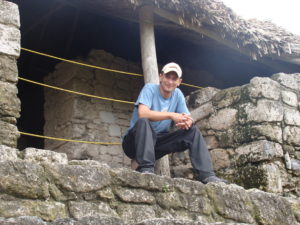 Born in Milan, Dubmaster Conte is a musician and producer who has worked on many musical projects throughout his career.
Starting as a teen playing bass guitar in a punkrock band inspired by The Clash he found his way to listening to some of the greatest dub producers such as King Tubby, Lee Scratch Perry, Scientist and Mad Professor. This musical experience inprinted forever the musical roots that inspired his ongoing mixing techniques.
Later on, through the discovery of electronic and ambient music (The Orb, Massive Attack, Future Sound of London, Aphex Twin to mention a few), Dubmaster Conte refined his musical techniques and the use of synthesizers, samplers and sequencers. The melting between dub tradition and this new influence created the uniquely organic sound of all Dubmaster Conte's musical productions.
"Ecotrip" from 2000 is the first solo autoproduced album, containing a collection of earlier dub/trip hop songs with an ambient flavour.
At the same time he began creating the foundations of Entheogenic Sound Explorers (ESE), an ambient electronic duo inspired by the music of The Orb, The Future Sound of London and various ambient Artists (Oophoi, Brian Eno, Aphex Twin,…). Entheogenic Sound Explorers has released 4 albums for the Dutch label Databloem (2007-2013) as well as an EP for the Californian label Bass Star/Geomagnetic records (2014).
In 2002 he moved from Milan to Amsterdam were he met Mc Tabbloyd, a Jamaican singer and producer. Together they started DMT Sound System which participated in different gigs and acts (finalist in 2004 Diesel U Music Award in Amsterdam). Back in Italy in 2006 they won the first prize as urban act in Diesel U Music Awards Italy.
From 2004 to 2009 he was the beatmaker and producer for the hip hop acts Hinterland Milano and for Il Buon Garzone.
In 2008 he started a new live band with the former member of Entheogenic Sound Explorers where Dubmaster Conte took back his first musical passion: the bass guitar. The band name is called Liquid Rainbow. The musical style is a mix of electronica, psychedelic rock and, of course, dub. Four albums and a dance single ("Just for Fun") were published between 2009 and 2014. On the album "8×8" (Magnatune records) he mixed 8 dub versions of the original Liquid Rainbow songs with his unique style.
In 2014 with Magnatune, he released his second solo album "In Dub" were he played, mixed and dubbed all the tracks. A work completely dedicated to his first musical and genuine love : Dub Music.
In 2015, as a band member of the band Liquid Rainbow, he produced and released the album "Landscapes & Treasures" where he mixed, produced and mastered all the tracks. In the same year his music was broadcasted as a soundtrack at Expo 2015, the International Exposition held in Milan. Also the Liquid Rainbow song "White Lodge" featured on the Twin Peaks series playlist "Isn't it too dreamy".
Finally in 2016 he started working on the debut album from a reggae artist called Baltazzar. Dubmaster Conte recorded, played and produced the album that will be released by the end of 2016. Also an album composed of the dub versions of Baltazzar's tunes is in development: a fine style album with Dubmaster Conte in full effect.
Last but not least, in the third quarter of 2016 the newly awaited Entheogenic Sound Explorers album will be released by the Dutch label Databloem. Called "The Fifth Dimension", it is a double cd full of the typical ESE entheogenic aura: soundscapes, downtempo beats, hypnotic synth's, tropical field recordings, tribal percussions and more is to be expected from this masterpiece.