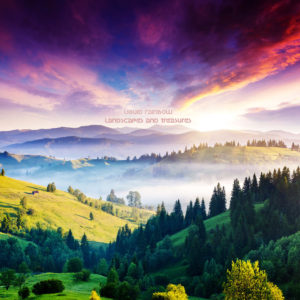 Music Fragments from rock to dub
Lose yourself in the different dimensions of music, Landscapes and Treasures is structured around the themes of Love, Friendship, Nature, Space travelling and the fun of three people that make music to communicate at higher level.
The songs of the album are small windows on different state of reality or alternative futures and come from a melting pot of life experiences and explorations, the band took a different approach to the music for this album re-recording and expanding old demos and refreshing the sound for "Ambient Spaces" and "Souls and Frequencies". Some tracks were recorded at the Magic Garden Studio, others in a special session recorded on the italian Alps.
You will be surrounded by the trees and travelling at the speed of light, you will find yourself walking under the stars and enjoying the nature around you and suddenly you will be looking at the landscapes of an alternative world on a parallel universe
Welcome to a Place beyond the clouds.
The Album is dedicated to our beloved mascot "Geppa", the great dog and Friend who was always in the studio with us during our jamming and recording since and before the beginning of the adventure called "Liquid Rainbow" (you can hear her voice in some of our new tunes), for sure now she found her special place in another dimension but here on Planet Earth we will always miss her.
We wish you a good listening
Liquid Rainbow
Album available on Bandcamp